As a society loses its moral bearings, a childhood friendship deepens into a love affair with extraordinarily high stakes. Brilliantly conceived, CARRY ME is an epic for grown-ups, an unusual love story, and a lucid meditation on Europe's violent twentieth century.
CARRY ME a finalist for National Jewish Books Award 2016
Les Insouciants is also published in North America by Editions-XYZ, Montréal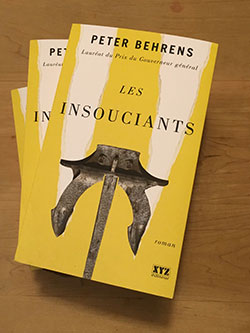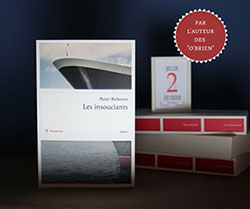 Carry ME published in Paris, February 4, 2016 by Editions Philippe-Rey as "Les Insouciants"
Carry Me is winner of the 2017 Vine Awards for Canadian Jewish Literature. "Behrens is a master, at home in the broad sweep of history and the intimate detail of a character's experience. This is a novel that could be, should be, read in a hundred years." —The Jury
Stranger in a Strange Land: PB Talks about Displacement and Identity—and CARRY ME at Kingston Writers Fest
CARRY ME named one of National Public Radio's Best Books of 2016 —NPR
"Behrens captures his narrator's naïveté and the casual anti-Semitism of the times with great skill and intelligence . . . as true an observation about human nature as there is." —Dennis Bock, The New York Times Book Review
PB's talk "FAMILIES NOVELS HISTORIES" at Radcliffe Institute for Advanced Study, Harvard
"Behrens is a beautiful, lyric writer. His understanding of the age and command of it, moment to moment, is impressive . . . everything is beautiful in the details, in the smallness of personal moments even as we know that no matter how calm, how peaceful the moment, it will not last." —Jason Sheehan, NPR
"Peter Behrens is a powerful stylist . . . if exile is Behrens's obsession, he's still making it work in his fiction" —The Globe and Mail
"This ambitious novel provides a panoramic view of a continent and a microscopic view of two individuals hovering precariously between the two world wars . . . . Vividly imagined . . . . Moving seamlessly back and forth between times and countries, Behrens (The O'Briens, 2012) paints a stunningly intimate portrait in wide, universal strokes." —Margaret Flanagan, Booklist
"Behrens . . . revitalizes the war epic, substituting grand panoramas with realistic settings and great acts of heroism with small yet powerful acts of compassion . . . " —Publishers Weekly
"Behrens, taking the bare bones of his father's life and melding it into epic fiction, covers historical ground we might think already well represented but finds new ways into it through the depth of his characters, the strength of his storytelling, and the poetic touch of his prose; Carry Me is a moving meditation on identity and belonging, and a love story to get happily lost in." —Montreal Gazette, May 2016
Carry Me Interview on CBC Radio, May 2016
"How does brazen hatred acquire such an unbreakable, steel-jawed hold over an entire society? In his new novel Carry Me the Canadian-born, award-winning author Peter Behrens touchingly, tenderly and provocatively asks that question, many compelling variations upon that question, and much more." —Mordechai Ben-Dat in Canadian Jewish News, May 2016
CARRY ME is "another meditation on history and destiny . . . that make[s] the past feel stunningly close at hand." —Megan O'Grady, Vogue
CARRY ME is an Editor's Choice selection at Historical Novel Society
"A Writer on Writing: a Video Interview with PB" —Radcliffe Magazine
"Historical epic with a side of romance, ideal for cold winter months" —Post City Toronto
Lorne Matalon and PB talk about CARRY ME on "West Texas Talk" —KRTS Marfa Public Radio
CARRY ME is "Beautifully composed, and heartbreakingly credible." —Shelf Awareness
CARRY ME "thrills" —Washington Post
CARRY ME is "staggeringly epic." —Toronto Star
CARRY ME offers "stunning imagery . . . fully realized characters . . . an unusual epic love story. . . . masterly" —Winnipeg Free Press
On CBC BOOKS, PB talks about channelling the family ghosts with CARRY ME.
"A gifted storyteller . . . Carry Me is a well crafted and true tale of people, families, and love affairs." —The Province (Vancouver)
"[CARRY ME] is both poetry and cartography . . . . Behrens has mined truths so skillfully that in reading they can slip by unnoticed; they're never glaring or contrived. They leave the reader with a feeling Billy describes as he's driving across Germany . . . . Great writing keeps readers on this threshold, in liminal space, wanting to know and understand more than literature or life will allow, anxious for the next big lesson. CARRY ME is full of this kind of searching, characters looking for a way to map their lives against war and love and change." —Heidi Sistare, Portland Press Herald
"Carry Me is almost as dreamlike as its desert setting." —The National Post.